"Save the Adobe Casita."
I had known for some time that friends were planning to demolish two old adobes on their land. The process had actually been delayed for a couple of years by intervening life events that required attention first. Over the years I had taken some photos of the smaller adobe casita, but never one that I thought captured the essence of New Mexico adobes. At the beginning of summer of 2012, after some high winds had ripped parts of roofs off, creating a definite liability, friends Tim and Laurie made definite plans for the demolition of the old adobes on their land.
In June of 2012 I finally managed to make an image of the smaller adobe casita that captured what I wanted to show. The day lilies that had been lovingly planted were blooming, the wonderful light of sunset was falling on the adobe, and the beautiful old cottonwood that was both providing a foundation for the casita and at the same time threatening its walls was clearly seen. I posted this image on Facebook.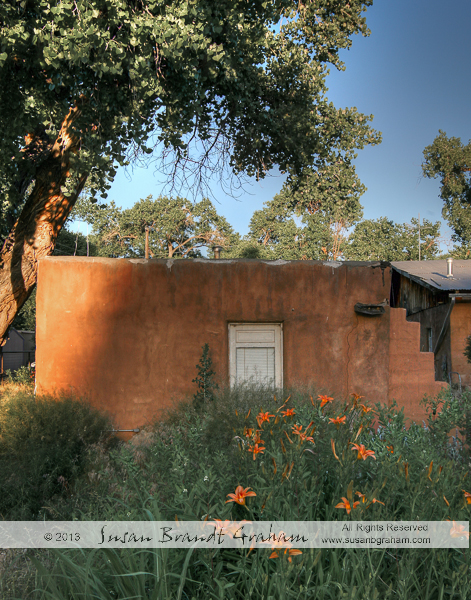 The image started a discussion that, on the one hand made me happy because people saw the charm of the adobe casita, and on the other hand made friends Tim and Laurie wonder if I were trying to "save the casita." I began to worry I might lose a friendship over that one photo! 🙁 Images have power that sometimes we do not realize!
Not to worry, however. Tim and Laurie allowed me to spend a week in August 2012 photographing before, during, and after the demolition.
The little adobe casita was charming, even partway through demolition. This image shows the view from the front door, looking out on the brown-eyed Susans that were blooming in August, along with some of the door detail, and the adobe construction itself.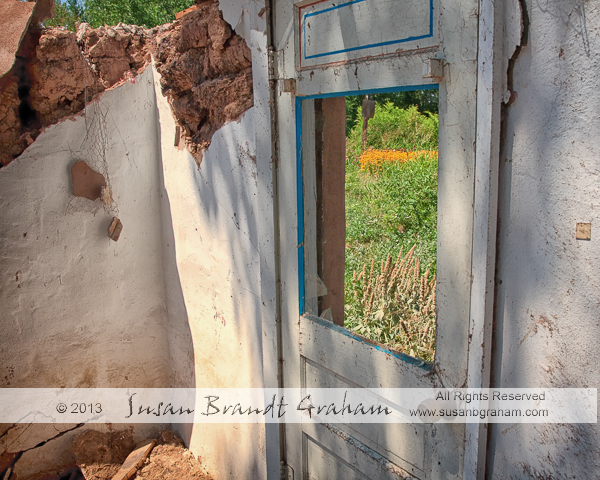 But, as charming as I found some things about the little casita, even I knew it either had to come down, or a lot of money spent to restore it.
These images inside the casita were taken 36 hours before the beginning of demolition:
Continue reading ""Oh, No! Is She Starting a 'Save the Adobe Casita' Campaign?""