The Road Less Traveled – Off the Beaten Path in New Mexico
The Road Less Traveled
"New Mexico, Land of Enchantment." So true. It is true even if you are in a city such as Albuquerque, or off the beaten path. If you must travel Interstate 40 or Interstate 25, you will see beauty all around: the desert, the mountains, the river valleys, the sky, the clouds… Beauty is everywhere in this state.
But, the road less traveled, whatever that is for any individual, perhaps offers the greatest chance to enjoy the beauty, to be "enchanted."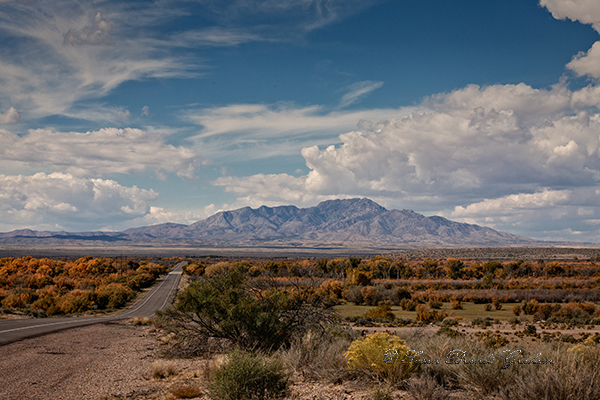 On this particular day in October, my mom, along with our friends Tim and Laurie, were celebrating together Tim's birthday and my birthday. We do "photographic excursions" periodically, and on this day the only thing we particularly set out to do was see if many sandhill cranes had yet arrived in Rio Grande Valley south of Albuquerque on their annual migration route. We wanted to check at one place in particular, but, other than that, the day was free to go wherever we felt like going. We took Interstate 25 south out of Albuquerque, but soon found ourselves more content on the road less traveled.
I missed a turn right after exiting the interstate, and we found ourselves crossing the Rio Grande and going on a bit. When I turned around to head back to the "other" road less traveled, this was the landscape that greeted us. Tim photographed, Laurie sketched, I photographed, and my mom enjoyed the scenery.
This wonderful landscape with the golden cottonwoods in the Rio Grande Valley, the mountains, the sky, the clouds, and a glimpse of the road less traveled was an auspicious beginning to a day filled with enchantment! Watch for more images from that day on this blog.