Rose Photography – Judges Class Winner in the 2015 American Rose Society Digital Photography Competition
Rose photography – what led me to study and learn digital photography in 2008. I was an ARS Accredited Horticulture and Arrangement Judge when I wrote about adding photography to our rose shows for the ARS 2010 ARS Rose Annual.
My interests in photography have certainly led me, and will continue to lead me, to explore many more aspects of my world and life through photography.
I would like to thank the members of special committee who selected this image, "Rose 'Gold Medal' with Butterfly," as the winner of the Judges Class of the 2015 American Rose Society Digital Photography Contest.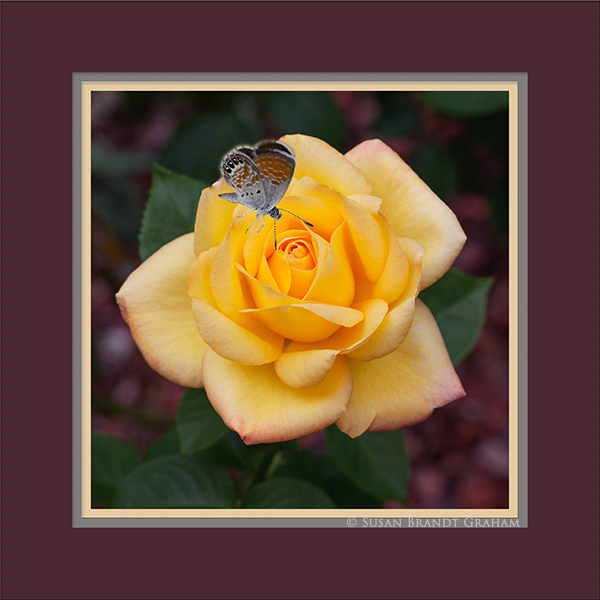 This image has special meaning to me. The 'Gold Medal' was grown by my mother, and it is one of her favorite roses. It was photographed near sunset in her garden. The hair streak butterfly is a macro shot taken in the garden of my friends Tim and Laurie on a glorious afternoon in Corrales. I have so many pleasant memories of both gardens, and I wanted to unite them in one image. On a personal level, that is what was behind the creation of this image.
On a rose photography level, I wanted to create an image that used a lot of photo editing and photo enhancements but ended with an image of a beautiful rose and a feeling of a presence in a beautiful garden. One of my pet peeves is the use of Photoshop filters to create with one click of a mouse an image that smashes a rose beyond all recognition. The uninitiated seem to find those impressive, but they do not know that it is one click of a mouse. Did I ever make images like that? Yes, I did indeed. But I would like to see us encourage images that are a bit more creative and that show the beauty of the rose. Do I expect them to be as complex in creation as this image that appears so simple was? No, of course not. But I recently saw a gorgeous image of a rose on fallen leaves of autumn, creatively arranged, magnificent in color, that was passed over for a one-click abstract. I'd like to see our judges – and photographers – begin to rethink the approach to "rose art" to go beyond the one-click Photoshop filters.
Once again, I thank the people who selected this as the winner in the Judges Class, 2015. It is an honor.
I leave you with a brief slideshow of some of my rose images from the past.