Day of the Dead Albuquerque Style. A Look Back at Some Previous Observances.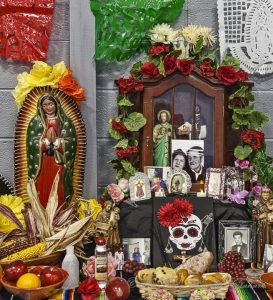 Day of the Dead Albuquerque Style will not happen in 2016 until early November. The Marigold Parade is Albuquerque's major public observance of this ritual, which had it origins in Mexico long before the arrival of the Spaniards. The Marigold Parade is always enjoyable, and can be educational as well. Given that this is a Presidential election year, with all the politics surrounding this particular election, the 2016 observance in Albuquerque could be one of the best yet.
Day of the Dead celebrations have become popular in the American Southwest in recent years. Many of these have commercial appeal, and may have very little to do with the origins of the celebration or its function in maintaining cultural identity. To date, Albuquerque's public celebration has avoided commercial ties, and has remained an expression of Albuquerque's Hispanic culture.
Dia de los Muertos or Day of the Dead is not "Mexican Halloween," nor All Saints Day or All Souls Day. Elements of Catholicism were incorporated into original native rituals when the Spaniards arrived. The day celebrates the return of the spirits of the deceased. This is not scary or frightening. It is cause for celebration. Preparations include laying out favorite foods of the departed, so that the spirits may enjoy the aromas. Favorite items are placed as offerings. Marigold petals are strewn in a path to show the spirits the way home. "Honoring the dead, loving the living" is a frequently heard phrase.
Preparations for the following year's events begin almost as soon as the Parade is over. Plans and activities can be followed at Muertos y Marigolds. The 2016 Parade theme is "Sheep don't vote, feed the chupacabra. ¡Reclamando nuestra querencia!" which definitely points to an emphasis on getting out the vote for the Presidential election two days later.
Albuquerque's Day of the Dead observance holds much appeal to me as a resident, as a social anthropologist, and as a photographer. I have completed two volumes of a three volume set interpreting Day of the Dead observances here, from the ubiquitous lowriders of Part 1; Beliefs, Culture, and Politics of Part 2; and Celebrating Life of Part 3.
The first two volumes are now available in Kindle format at Amazon.
Many thanks to Lewis Baker who captured the both the meaning and the fun-loving spirit of the Marigold Parade in a jaw-dropping review of "Lowriders:"
The role of the Marigold flowers attached to the dramatic pneumatic Low and Slow dancing cars from earlier decades help lead the way home; and one imagines these hearty souls who once graced these shimmering desert highways with their canvas water bags dangling from doors and hood ornaments in these oldest models of cars find in this bouncing rebirth a joyful nostalgia for their human years in this Southwestern Land of Enchantment.
"Celebrating Life" should be out later this month or early in August.