Winter Solstice: Turn, Turn, Turn
Winter solstice, the day with the least daylight hours in the year in the Northern Hemisphere, is December 22 this year. It also marks the "official" beginning of Winter. Even when I was young, it struck me that Solstice should actually mark the middle of Winter, although I will admit that weather-wise for me, the six weeks after Solstice are usually more wintry than the six weeks before. But, even by mid-January the increasing length of daylight is readily apparent. In my view of Light and Seasons, things would be so much more organized if Solstice marked the middle point of Winter.
So, just because I can, I chose to make Winter Solstice the halfway point in Persephone's stay in the Underworld, whether her stay is 3 months, 4 months, or 6 months (different versions give different lengths of time).
Seasonal change is a major theme in the Persephone myth, the cycle of life, repeated over and over. I have had the opportunity this year to witness and photograph some remarkable celestial events. The Blood Red Total Lunar Eclipse of September 27, 2015 is one such event that I'll not soon forget. In this image, the cyclic nature of seasonal changes is represented by different stages of that lunar eclipse, with the totality of the eclipse representing Solstice. The images from the eclipse are real and they are mine. The sequence from left to right is real. The way they are used here comes from my imagination.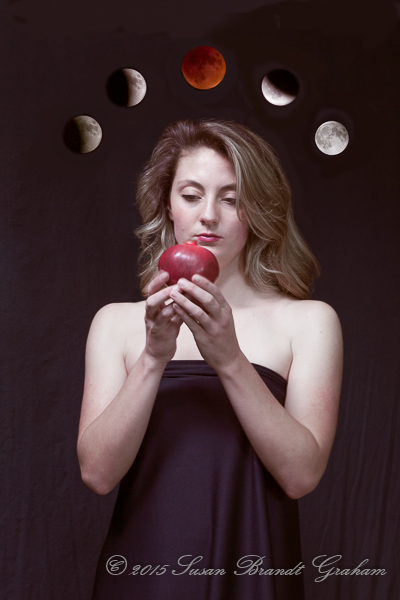 In the dark days of Winter, it would not be unusual for thoughts to turn every now and then to a return to Light. That doesn't mean those thoughts would be constant or overtake over all others. Just little flashes that occasionally cross the mind.
The Persephone of this picture story, at the Solstice, the halfway mark of her visit to the Underworld, has no regrets.