Every Woman's Dilemma: The Mind/Body Dichotomy
Every woman's dilemma is not what I thought it would be when I began thinking about how I would photographically present parts of the myth of Persephone that I found particularly interesting. Many of the binary oppositions found in the great literature of the world are certainly present, even on the surface, of the Persephone myth: male-female, light-dark, good-bad, under-over, and I could, but won't, go on and on. I thought that these that I have mentioned would be the over-riding issues in this photo essay. I have long been interested in how in human society there is a curious division of labor by sex not found in other mammals, a division of labor that gives men such power over women. Years ago I published my conclusions about that in the American Anthropologist in two papers, one of which looks at anatomy and one of which looks at physiology. The actions of Hades and Zeus certainly reflect male dominance over females in this myth. At the beginning, I expected that, which really is part of every woman's dilemma, to be the major focus. The mind-body dichotomy as viewed by a woman and not imposed from the outside was not something I had given much thought prior to this.
From the very first day I began to read about Persephone, I was fascinated by the two major interpretations of how she came to eat pomegranate seeds, an act which required her cyclic return to the Underworld as the wife of Hades, during which time her mother, Demeter, in her grief and rage, caused the Earth to go barren and Winter to fall. In some versions, Hades tricked her into eating the pomegranate seeds, while in other versions she chose to eat them. Even before I gave much thought about how I would photograph that portion of the story, I knew the Persephone in my photographic storytelling would decide, by free will, to consume the seeds. It seemed so simple at the time: I found the truly perfect model to play Persephone, fresh pomegranates were in season in the store, and I had the opportunity to photograph many split pomegranates on my mom's pomegranate plant.
The simplicity had disintegrated long before the scheduled photo shoot. If Persephone chose to eat the seeds, what, exactly, was her choice? I had already ruled out being tricked into it, so that was not an option. If there was no alternative, then it was not really a choice, at least as I envision choice. That realization somehow brought to mind all the women in the course of human history blamed for many things: Persephone's eating of the seeds brings the pain of Winter (with apologies to readers who actually like winter), Eve got us kicked out of the Garden of Eden by partaking of the fruit of the Tree of Knowledge, often represented as an apple. By that time, I had read enough to understand that the pomegranate has had a very close connection throughout the world with fertility and sexuality, across major religions. Eve's apple certainly has some degree of that, but even just on the face of it, I liked the contrast of fertility and implied sexuality versus knowledge. I realize that myth and literature purists may object to my combining Persephone and Eve in one photographic essay, but to me, it is almost like two faces of a coin, these two women blamed for so much misery in the world.
(Certainly other examples come to mind, such as widely found myths of vagina dentata, teeth in the vagina. I thought I would spare readers a photographic exploration of that one. Or how about the news report out of Kentucky this December, 2015, of a homeless shelter kicking out women and children because of the threat to men of "ungodly sex." I couldn't make that one up!!! A very powerful video, #Dear Daddy, begins with "Dear Daddy, I will be born a girl. Please do everything you can so that won't stay the greatest danger of all.")
At that point, the photo essay, although stimulated by the Persephone myth, morphed into something beyond that. I don't apologize for that. That kind of thing happens with reading and thinking. The myth at the beginning grew into further exploration, exploration into what I came to see as every woman's dilemma.
I did not have to explain anything to my wonderful model, Kelly Angerosa, about what I wanted to do. She saw the pomegranate and the apple on the table, and smiled. She knew instantly what I was asking of her. It was something that was there, an unspoken, unconscious recognition, a shared bond; it did not have to be explained.
It was not until I was well into processing the images and posting them here on the blog that I began to fully realize what I was doing and why I found it so exhausting. This photo essay is about a woman exploring her existence with both a mind and a body, a body not as defined by others (a topic for another time, and one I may never want to try to tackle), but as defined by her while still living in a world defined by others. And those two very important parts are compartmentalized in the myth, with her sexuality more or less confined to the Underworld in Winter in her role as wife of Hades, with her mind and knowledge not really important there. No wonder, really, I kept thinking of Georgia O'Keeffe's marriage, with part of the time spent with Steiglitz and a great deal of the time spent in New Mexico doing as she pleased.
A question posed in a discussion on FB was, "Can a woman achieve fulfillment under the controlling mind of a dominant man?" The real question, of course, would be, "could anyone achieve fulfillment under the controlling mind of a dominant person?" and asked that way most people I know would answer, "NO! Of course not." But, since human males feel entitled to be dominant, therein lies every woman's dilemma. Georgia O'Keeffe found a solution, one which parallels that of Persephone: be with a partner part of the time, and free as a bird part of the time. That was the resolution of the dichotomy for O'Keeffe and Persephone.
It sounds so simple, once stated. But it took me a long time in working with the images to see exactly what I was saying with them, to see every woman's dilemma as defining herself not only as a female body apart from society's definition, which seems to be the overriding concern of human society, but also as a mind free to make choices not determined by a man (or, by another woman, for that matter!). That can be very difficult for many women; human society does not make that easy for women. In the end, this photo essay came to be about a woman making choices by her own free will.
I've really enjoyed working on what came out of this little segment of the Persephone myth. This post wraps up that segment. I am going to take a break from myth for awhile, and post on some less exhausting subjects. I hope you have enjoyed this photographic essay, my personal interpretation on a small part of the Persephone myth with many more plots and subplots.
Fire of Passion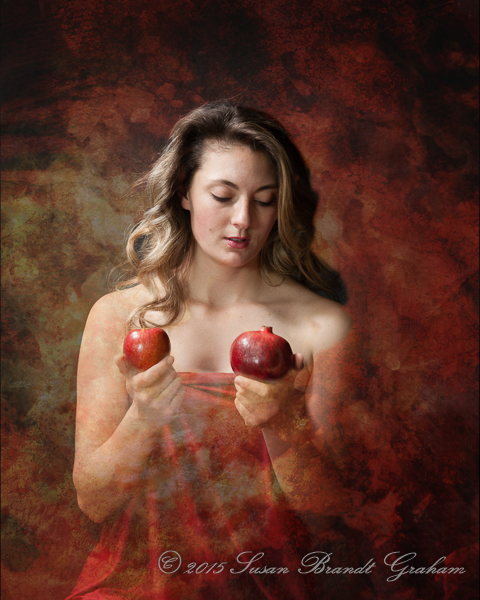 Light of Knowledge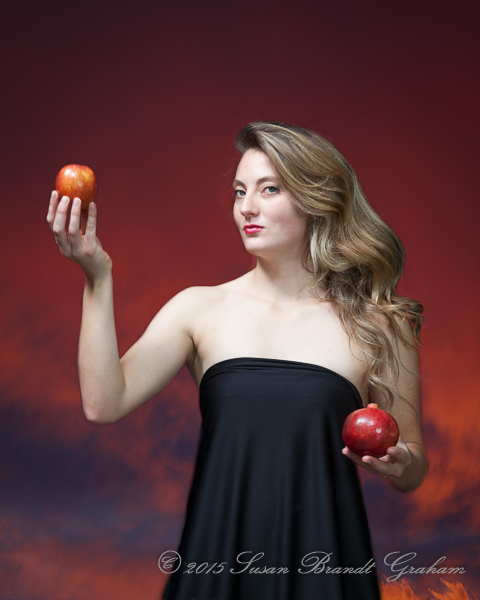 I Need Knowledge, Too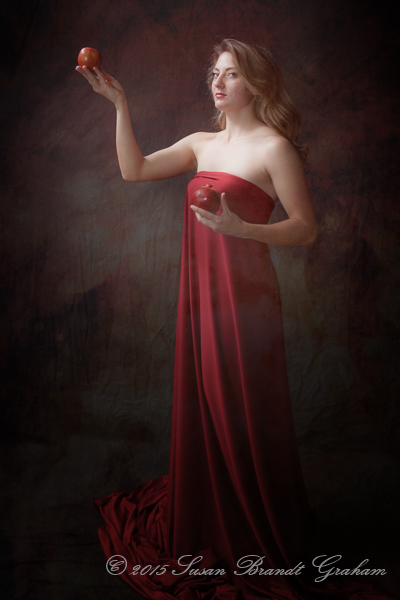 Why Must I Choose?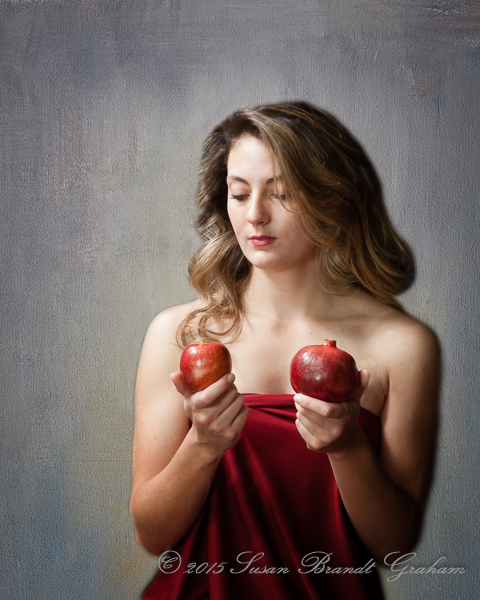 I Choose Both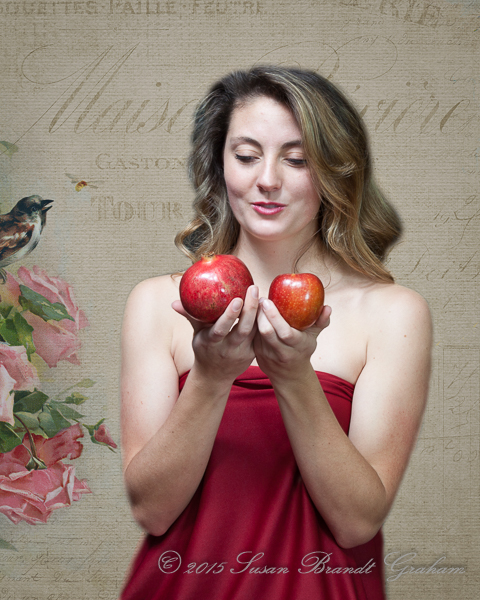 Free as a Bird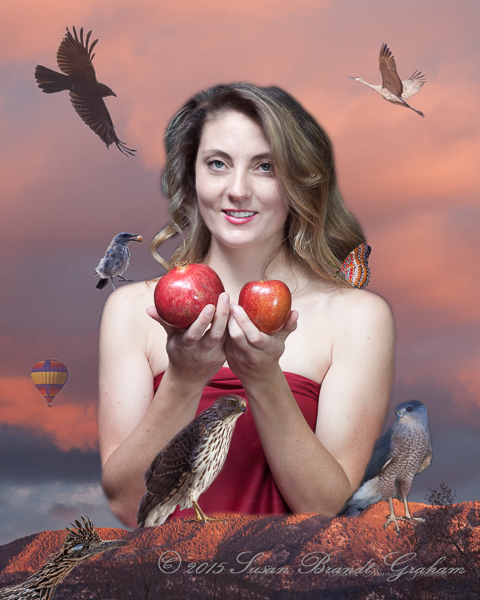 Postscript to the Persephone Series and Every Woman's Dilemma
Although I had four years of Latin in high school, during which time we studied Roman and Greek mythology, among other things, that was a very long time ago and there has been a lot of water under the bridge since. I became aware of the myth of Persephone on September 15 of this year, through a brief mention of it in an email in a comment on the upcoming autumn and winter by friend Jim Stallings (oh, no. Does the annoying woman get killed off in this short story?). Something about Persephone and her cyclic descent into the darkness of the Underworld resonated with me immediately.
Within two weeks I had done a series of images stimulated by the Persephone myth, using some of my favorite subjects, sunflowers and butterflies. For those of you in the Albuquerque area, those images are currently hanging in the 2015 ANMPAS show, which runs through December 27.
Once that photographic series was done, the thought of telling a story with a model began to seep into my brain. I had worked once with a model on someone else's project. But I had never thought of finding and hiring a model to tell a story as I wanted to tell it. As these things sometime happen, the perfect model appeared almost by chance. I surprised myself by asking her if she would be a photographic model. This is far out of my range of what I comfortably do. Much to my surprise, she said, "Yes." That was the beginning of my work with the wonderful Kelly Angerosa, the woman you see in these images. We have plans to work together again in the spring.
This series is something I was driven to do. I have many distractions and duties in my life at the moment, but I "had" to do this series. I often stayed up past midnight working on images, and there were times I was up again at 4:00 am because a thought occurred to me that I wanted to add. When the totality of my life at the moment is considered, I have been working as hard and as long as I did when I was a resident in Obstetrics and Gynecology. But this work came from an inner drive; I had to do it. It has been a long time since I felt so passionately about something. It may be the first time I felt so passionately about something. It really became, at least to me, the story of every woman's dilemma, something I saw visually as a whole for the first time, although I had thought about the issues before as an anthropologist and also as an obstetrician/gynecologist.
This small piece is nearing completion. Within a day or two I will post as a separate page on the blog all of the images used in this series, with very little verbiage, so that they may be seen in totality. We are now in the dark days of winter, with the holidays, cold, and football playoffs 😉 approaching. I need a break. I look forward to the appearance of new things come spring.
I appreciate everyone who has followed along on this journey with me.
I especially thank my amazing model, Kelly Angerosa, who was everything I could have asked for and more, and Jim, who introduced me to Persephone.