ANMPAS 2017 – A Reminder
ANMPAS 2017, the Annual New Mexico Photographic Arts Show, is now open and runs through April 23. The show is in the Fine Arts Building at EXPONM. Hours are 10:00am-5:00pm daily, except closed on Easter Sunday. If you live in Albuquerque, or will be passing through the Albuquerque area, consider visiting the show. I think you'll enjoy it. All photographs are framed and available for purchase.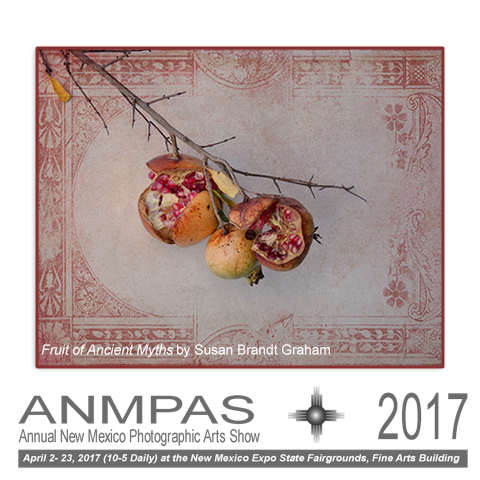 (For those of you who read at my other blog, Southwest Desert Gardening: and a Little More, I am posting the same notice there. I wanted to warn you about the double post.)
And, once again, I invite you to see a variety of my other pomegranate images, as well as rose images and two from "Persephone's Choice: Every Woman's Dilemma." These were published in the March/April Shadow and Light Magazine, Tim Anderson, editor. Tim was kind enough to allow me to use a pdf of my portfolio published there, as the Featured Photographer and Grand Prize Winner of the 2017 Color It Red Contest. Thanks, Tim, and also to the jurists.