Black and White Photography: ANMPAS Presents "Shades of Gray" December 4 – 27, 2016 at ExpoNM
Black and white photography as the sole focus for the December ANMPAS show is new this year. All of the ANMPAS (Annual New Mexico Photographic Arts Shows) shows feature New Mexico photographers. The December show has been a general show, with color and black and white images. The April show (Insight-NM) has featured women artists of New Mexico.
Organizer LeRoy Perea is changing things up a bit this year. December 2016 is "Shades of Gray." April 2017 will be the standard ANMPAS show. December 2017 will be "Insight-NM."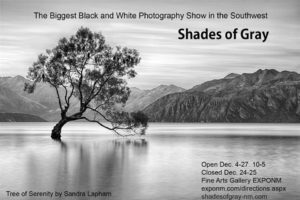 The show is closed December 24 and 25. Otherwise, it is open from 10:00am – 5:00pm December 4 – 27. The show itself is free. ExpoNM may charge parking on weekends or during special activities. All images are framed gallery style and all are for sale.
Those of you who read here often (Thank You!) know that, as a photographer, I am basically a colorist. To my eye, the colors of New Mexico demand that of me. But, every now and then, I do see things in black and white. I have always seen these boots, handmade by my son, in monochromes. When I realized he planned to come for the holidays and might be able to see the show, I entered this image. I was very happy that it was juried in. Many thanks to the jurors.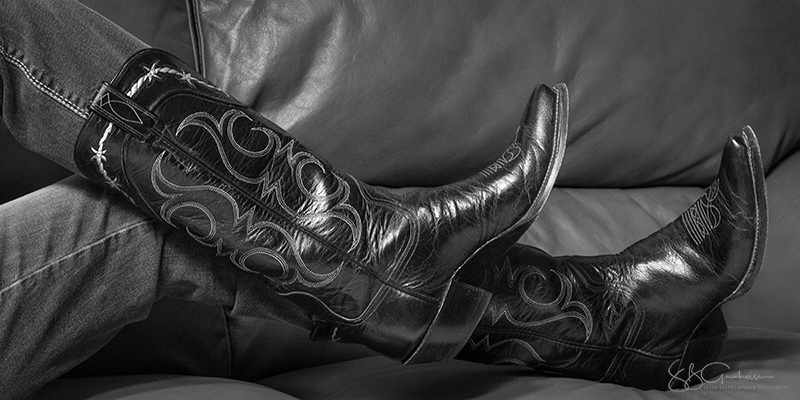 If you are in the Albuquerque area in December, consider visiting this black and white photography show, "Shades of Gray." I am very happy to be included in this show.