Quarai 1991
Quarai 1991 on the Autumnal Equinox, for the wedding of friends.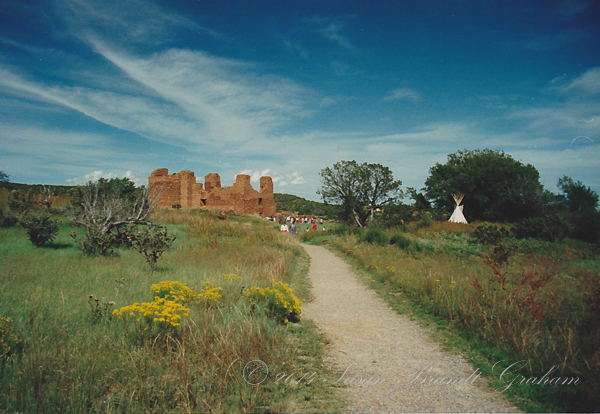 Guests are arriving for the wedding. The tipi on the right was the bridal party's "preparation room," and had been transported from Albuquerque.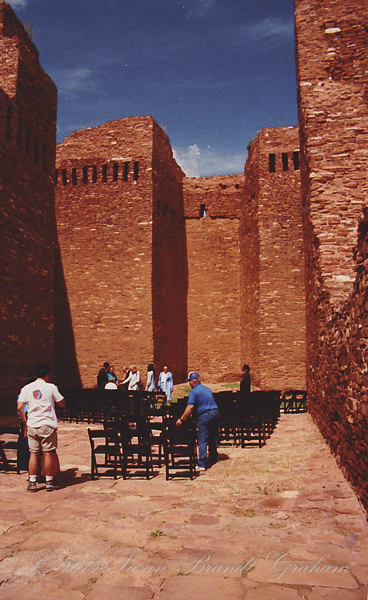 As you can see, it was a very beautiful day, even by New Mexico standards. These images are simply scanned 4x6s from film, developed at a "One Hour" kiosk (that was how we saw images in a hurry back in the film days 🙂 ). I have searched for the negatives, without success.
I am showing these images of Quarai from more than 20 years ago, because Quarai was one of the stops on our "Road Less Traveled" excursion this past October. Images from the 2014 visit will appear in the immediately next post.
Quarai is one of three Spanish mission ruins in the Salinas Pueblo Missions National Monument; Quarai, Abo, and Gran Quivira, built in the early 17th Century and abandoned by 1670. It became a National Monument in 1909, initially as Gran Quivira National Monument. The name was changed to Salinas Pueblo National Monument in 1988.
While the stone ruin itself may not appear much changed when the 1991 and 2014 images are compared, Park Service "landscaping" as well as just the ever-changing light of New Mexico will be seen to combine to make the images appear much different to the viewers. Please watch for the subsequent post and images from the 2014 "Road Less Traveled" visit to Quarai.