Quarai 2014
Quarai in Salinas Pueblo Missions National Monument was one of the places my mom and friends Tim and Laurie found ourselves on our birthday celebration photo excursion, subsequently named "The Road Less Traveled." In the prior post, I showed images from 1991. On this October day in 2014, differences are apparent.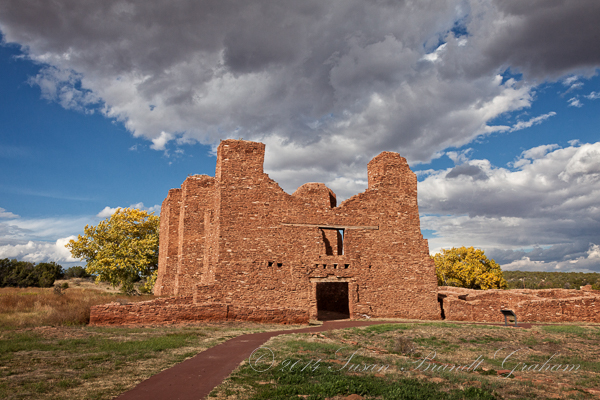 The "landscaping" is more manicured and not as much in the natural state seen in 1991. My personal preference is for the more natural state, although I do understand that greater access for more people may have necessitated some changes. You will also note the walk ways are different.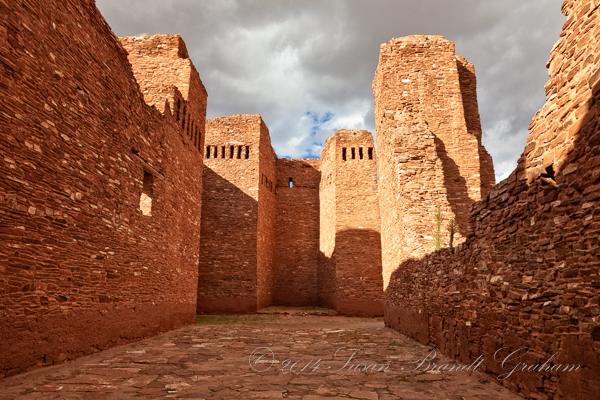 The light, which was beautiful in typical New Mexico fashion on that Autumnal Equinox day in 1991 was a little more dramatic on this October 2014 day. Within the church ruin itself, I could not have hoped for more dramatic lighting. Although it lasted only briefly – as these things do – it was enough for an image I will never forget.
Photography comes literally from the word for "light" and "write." Photography = "writing with light." Photographers are aware of this in any image that they create; sometimes it is just more apparent to viewers than at other times. One viewer referred to this particular image as "painting with light." I am more than happy to take that not only as a compliment but as a statement that the light so briefly available that day spoke for itself.
Quarai in Salinas Pueblo Missions National Monument in New Mexico – just one more reason to try "The Road Less Traveled."