Young Cooper's Hawk's In-the-Trees Courtship Display
Courtship display did not even enter my head as I photographed this young Cooper's hawk putting on some kind of display in a large juniper tree in my neighbor's back yard. I knew I had never seen anything quite like it, and I felt very lucky to have photographed it. I posted some of the images some time ago, and then things in my life got busy. Then they got even busier.
At the moment, I am still busy, but, at least temporarily, things seem somewhat stable. 2016 has started off great in terms of productivity with photography and photo essays. Color vision is my current passionate interest. In working on that, however, I came across the images of the hawk display. Over time I have come to realize what that display was: a courtship display. This behavior is described in the literature, but photographic documentation is scarce. I decided to take a little break from the color vision, and publish the images, both in paperback format and Kindle format. This is the first volume in a series, "As Seen in New Mexico…"
"Cooper's Hawk Courtship Display" will be available in both formats at Amazon some time in June (mid-to-late). I'll post when they are available at my Amazon page.
This is the Kindle cover, as well as the front cover for the paperback: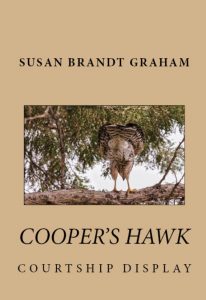 Was this young male just confused, or was there method in his madness??? Stay tuned…