Rain! The Monsoon Rain!
Rain! The monsoon rain arrived at my house this afternoon! Two and a half inches in less than 40 minutes! The rain falling straight down is coming off the roof. The rain at an angle is what was blowing through. And that pond…well, I'm actually happy to see it. The temperature dropped at least 20 degrees on my back porch.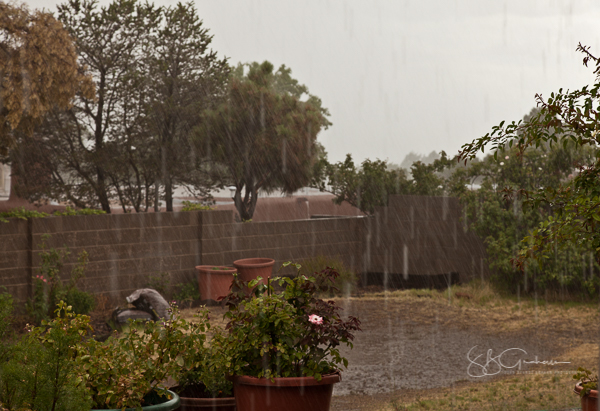 My neighborhood slopes downward from the Sandia Mountains on the east to the Rio Grande on the west. Each individual home plot is more or less level, but the yards were designed with a depression precisely for the monsoon rains. They catch the rain and allow it to sink into the ground, rather than running off. Water was running high in the streets, and there was some flash flooding. But the yards just held the excess that fell there until the ground could absorb it.
The area of such heavy rain was fairly small. For those of you who know Albuquerque, the warning was for "around Academy, east of I-25." I only wish I had gotten some fertilizer out 🙂
I know this image in terms of beauty is not a monsoon sunrise or monsoon sunset image. But for those of us who live in the high desert, a monsoon rain is beautiful and life-giving.
Edited July 18, 2017 to add the following:
1. Southwest Desert Monsoon Season:
Southwestern Monsoon
North American Monsoon (really the Southwestern Monsoon!)
2. Albuquerque's Localized "Little Rain" 🙂 ))))))))) yesterday
From KOAT TV "Flash Floods Slam Duke City"