Uniquely New Mexico: Spectacular Skies and Hot Air Balloons 🙂
Uniquely New Mexico: so many things! All of you know how much I love so many things about New Mexico. Just because wanted to, I took a few minutes to unwind with new software, my kind of sunrise, and a perfect New Mexico balloon. I think of the D H Lawrence quote almost every time I see a sunrise here with clouds.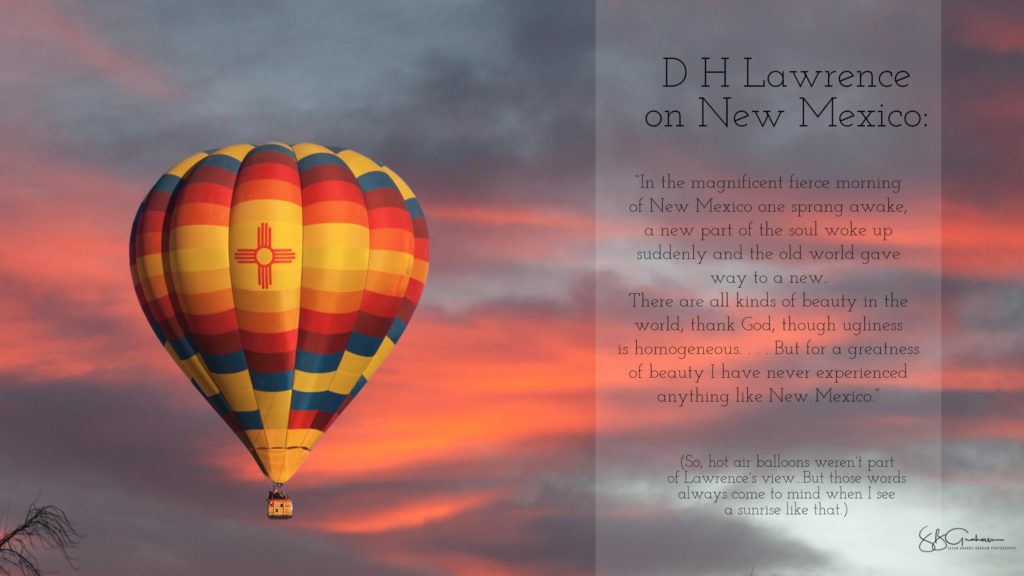 I think New Mexico was the greatest experience from the outside world that I have ever had. It certainly changed me forever. . . . the moment I saw the brilliant, proud morning shine high up over the deserts of Santa Fe, something stood still in my soul, and I started to attend. . . . In the magnificent fierce morning of New Mexico one sprang awake, a new part of the soul woke up suddenly and the old world gave way to a new.

There are all kinds of beauty in the world, thank God, though ugliness is homogeneous. . . . But for a greatness of beauty I have never experienced anything like New Mexico.
Wishing you a spectacular day wherever you are.