Persephone at Berlin Foto Biennale 2016 and 4th Biennial of Fine Art & Documentary Photography
Persephone at Berlin Foto Biennale 2016 is something those of you who also read on Face Book know about, but many of you who are loyal readers here may not know about. The show runs in Berlin, Germany from October 6 -30, 2016, at the Palazzo Italia
"My Fate, By Choice," from the series, "Persephone's Choice: Every Woman's Dilemma" is my image for this large photography show. "Emotions and Commotions" is the show theme.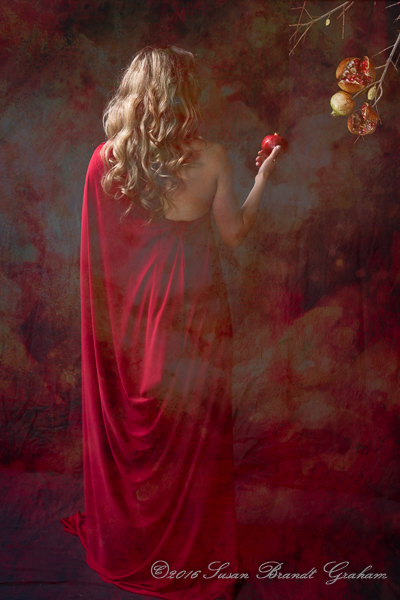 I was surprised when I received an invitation right after Christmas to participate. I did not remember entering any competitions that would qualify for this exhibition. But, I checked my records and followed the links. I had indeed entered some things in January 2015, right after I got back from Texas to be with my son. Brain fog consumed me at that point. I am surprised I entered things at all.
Almost as surprising to me was the variety of the three images invited to be exhibited.
The Three Invited Images
Many of you here are familiar with "The Road Less Traveled." This is in the Rio Grande Valley a little south of Albuquerque. It was a serendipitous view discovered when I missed the turn, and after driving for a bit, turned around to see if I could find the correct turn. This view appeared when I turned around. The trip was one of the "photographic excursions" on the birthday Tim Price and I share. The photograph has special meaning.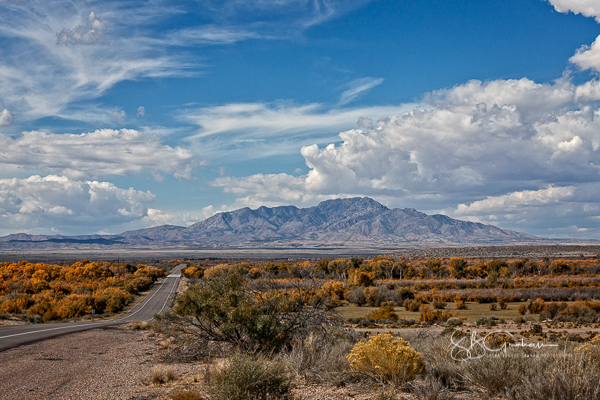 This floral is certainly typical of my florals. As such, I was very pleased to be invited to show it in Berlin.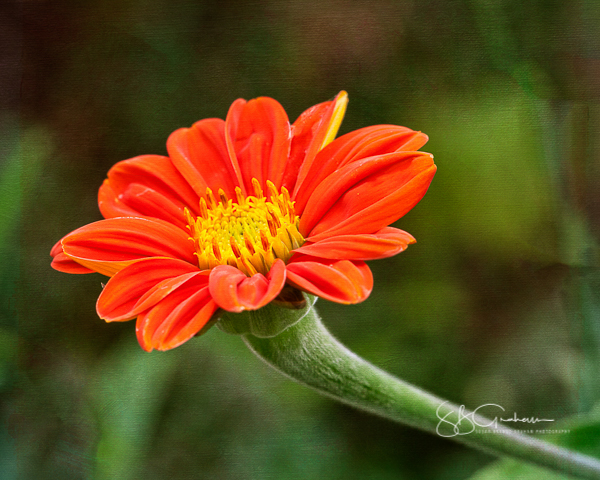 The third invited image surprised me a lot! Photographers know their work, even when people take the images, cut off the watermarks, and try to cram them into nodes with different aspect ratios. We see it, we frame it, we snap it, we process it. When I saw the third invited image, I thought "oh, that must be mislabeled and belong to someone else." It certainly is not typical for me. After looking at it for a bit, I realized I made the photograph as part of a workshop taught by LeRoy Perea and Dennis Chamberlain. I hope they are pleased that an image from that workshop was selected to be shown in Berlin.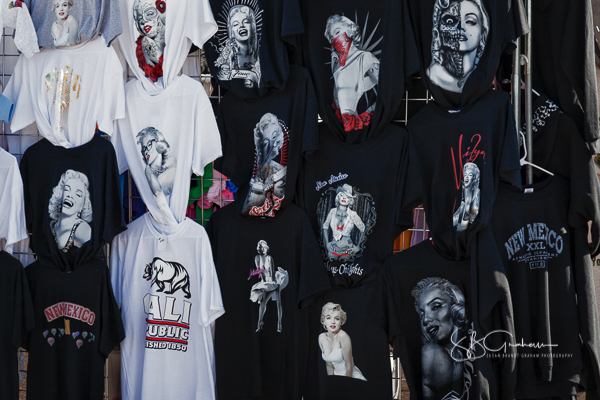 This is a tee shirt display at a flea market. Most of the images are of Marilyn Monroe, with a distinct New Mexico twist. There is Day of the Dead Marilyn, a variety of Our Lady of Guadalupe Marilyns, and a couple of her famous poses not given New Mexico flavor. I think the choice of this image speaks to the universal appeal of Marilyn Monroe.
Choosing Persephone
In 2012, I had displayed three images at the 2nd Biennial of Fine Art & Documentary Photography, held that year in Buenos Aires, Argentina. I thought about that show, and I thought about these three new images chosen for the 2016 show. At the time the invitation came, I was still working on processing and interpreting the Persephone images. I knew that work was different from anything I had done before. That was the work I wanted to show in Berlin, and this was the one image I wanted to show: Persephone at Berlin Foto Biennale 2016.
The curators were very helpful when I explained what I would like to do. I'm really delighted and honored to have the opportunity to show this image in Berlin in the 4th Biennial of Fine Art and Documentary Photography.
By the end of May all the details that had to be taken care of at my end for Persephone at Berlin Foto Biennale 2016 were done.
The Steve McCurry Controversy
Some of you may know Steve McCurry as the photographer of "Afghan Girl," a National Geographic cover. He is an extremely well known photographer. Kodak gave him the last roll of Kodachrome produced, because the company thought he would make good use of it.
In the spring of 2016, he became embroiled in something of a scandal when it was discovered he had photoshopped not only one but several images. Photographic artists make extensive use of photo editing and photo enhancing, photojournalists do not. Sometimes a thin line separates the two.
I did not know until sometime in August that part of this show would be a Retrospective by Steve McCurry. Additionally, he will be giving the dinner speech and participating in some of the press conferences. I personally doubt he would be participating to this extent without the controversy, but it works for me. It should be a well attended show.
The Exhibition Catalog