The Old San Ysidro Church, in Corrales, New Mexico, is an historic landmark much beloved not only by the people who live in the Village of Corrales, but also by many people throughout all of New Mexico.
Built of adobe, it requires much upkeep and maintenance to remain standing. It receives the support of residents of Corrales on the annual "mudding day," when adobe plaster is reapplied and other repairs made. The Corrales Historical Society and Visual Arts Council hold activities throughout the year that go to help fund maintenance activities.
This image is from one of the few days I saw clouds at the Old Church, as well as one of the few times I could photograph it without cars parked in front. People have asked to purchase copies. It is available at Susan Brandt Graham Photography in a variety of print sizes, as canvas gallery wraps, and as photographic paper greeting cards.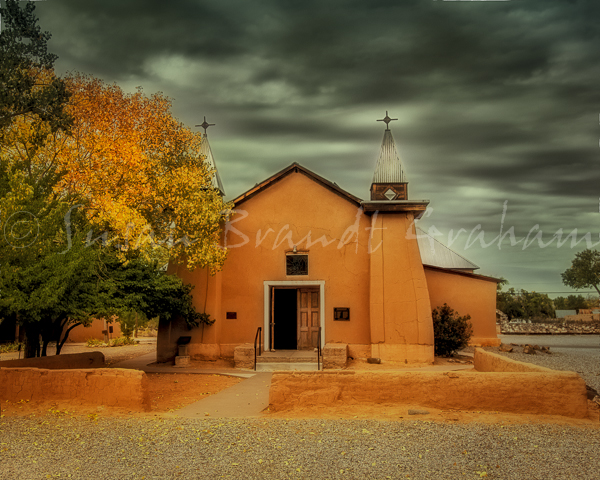 Although Corrales is a Village separate in government from Albuquerque, geographically they are connected. If you live in Albuquerque and have never visited the Old San Ysidro Church, you would enjoy making the short trip to see it. If you are a visitor from out of state, consider making a visit while you are here, whether your main destination is Albuquerque, Santa Fe, or other parts of our beautiful state.