Mudding an Adobe House
As I have said many times before, preservation of true adobe structures requires regular and time consuming maintenance, something for which many owners of adobes have neither the time nor money. I have also talked elsewhere about the community effort that goes into maintaining the Old San Ysidro Church in Corrales, New Mexico.
Corrales, New Mexico is geographically contiguous with Albuquerque, but it is its own Village with its own unique history, governance, and pride. Main Street, Corrales, is lined with adobes – businesses and homes – in various states of repair. It is charming, and the Village intends to keep it that way.
In 2012, the Corrales Historical Society and Corrales Main Street, with the hard work of volunteers, teamed up to "mud" or replaster with adobe the old Martinez House, which sits right on Main Street in Corrales. This house is not made of adobe bricks, but rather of terrones, which are essentially squares of sod. It is closely related to adobe. The traditional mud plastering is the same. The Martinez House Project is described in detail by Mary Davis in Corrales Historical Society Newsletter.
This is the north wall, and you can see the state of the adobe. For those of you not familiar with the use of color in New Mexico, blue is frequently used in the wood and other trim of adobe structures.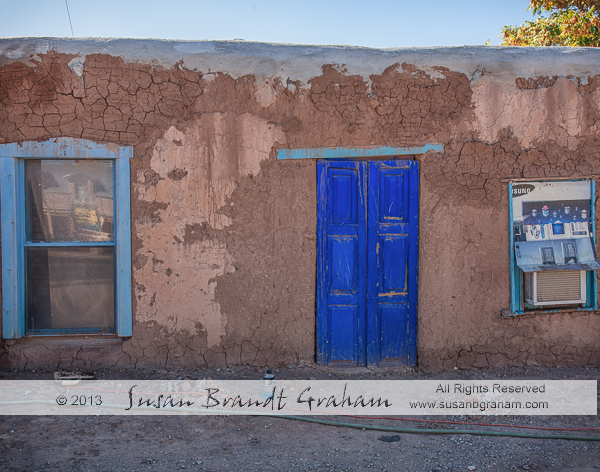 This is the east wall of the Martinez House, and you can see that it sits right on the street. It has already had one coat of mud plaster applied, and Daniel Esparza is smoothing it and adding a little more plaster.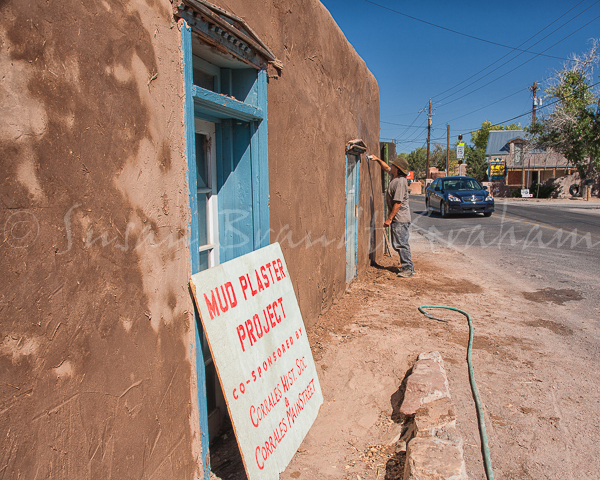 Before any "mudding" could begin, a formula for how much of what kind of earth and straw would be right had to be determined. Then, the ingredients had to be prepared and mixed.
Mary Davis chopping straw to be added to the mud mixture: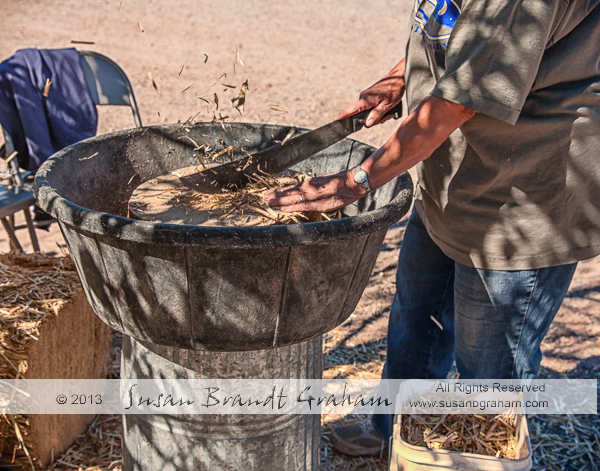 Daniel Esparza mixing the plaster: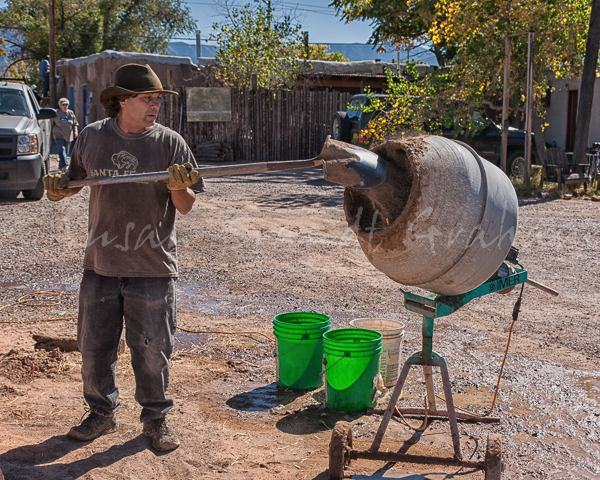 This next series of images shows Rick Catanach, master plasterer, adobe builder and preservationist, and the crew leader for this project, wetting the north wall in preparation for plastering, and then up on scaffolding applying the adobe plaster. You can read more about Rick here, by scrolling down to "Teens join in historic adobe restoration project."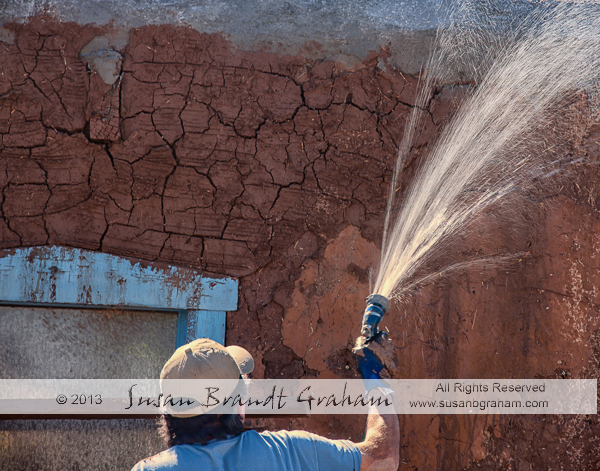 In this next image, Rick's trowel was really flying!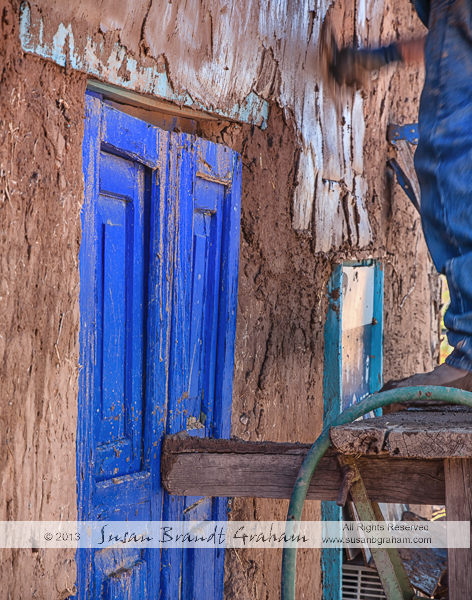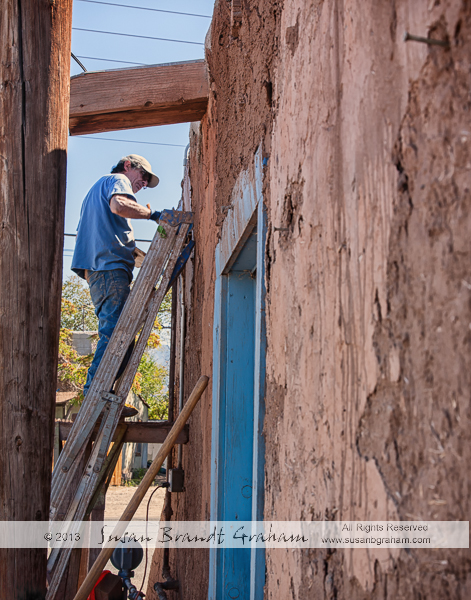 Ian Daitz, another skilled plasterer who owns his own plastering and landscape business, is shown in the next two images: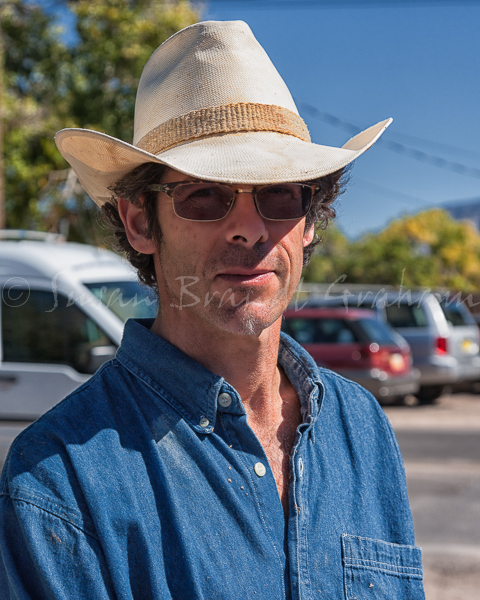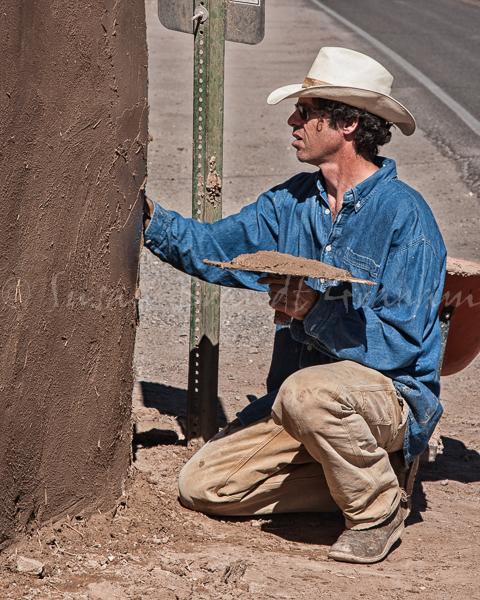 This last image shows Joe Castillo applying the finishing touches to the mud plaster on the east wall of the Martinez House.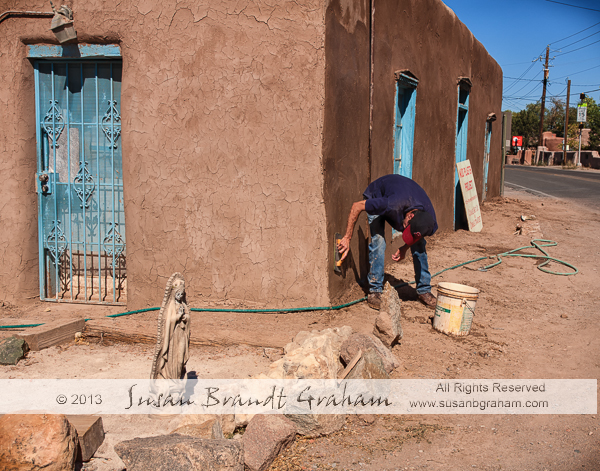 As a bit of an aside, of note is the statue of Our Lady of Guadalupe (the New World's Virgin Mary, very important here in New Mexico). The mudding of the Martinez House was done the third week in October, and Corrales was getting ready for their Harvest Festival. The Village was already decorated with both Halloween decorations and Dia de los Muertos (Day of the Dead) decorations. The face and hands of the statue of Our Lady were painted for Dia de los Muertos, which initially was something of a surprise to me. I still find it very interesting.
I have said numerous times that maintaining an adobe requires regular work. It is not easy. There will be many adobes that will not be maintained, and they will disappear over time. A community determined to protect its history can, with the help of many participants, maintain some of these structures. Corrales holds an annual "Mudding Day" for the Old San Ysidro Church. In 2012, the Martinez House in Corrales received a new coat of plaster, thanks to the work of many people. The residents of Corrales are working together to see that at least some of these historic structures survive, at least for the present.