Cover Images for the 2014 American Rose Society's American Rose Annual
Cover images for the Rose Annual are an honor for anyone asked to provide them. This annual publication of the American Rose Society is based around a theme chosen by the guest editor, who invites a variety of people to contribute. This year's guest Editor was Elena Williams, and she oversaw the production of a beautiful and very useful American Rose Annual. I was very honored by her invitation to provide photographs for the front and back covers of the 2014 American Rose Annual, with a theme of "Roses Across the USA – People, Places, Art, and Science." Thank you, Elena!
One of my all-time favorite roses is the Old Garden Rose, the Hybrid bracteata 'Mermaid' with a date of introduction of 1918. I planted it in honor of my father, who was born in 1918. I have gotten Best of Show with it twice, and multiple Victorian Award Certificates. It is an eight-hour wonder, but when it is on, it is truly spectacular. When Elena asked me about the covers, I hoped I could provide an image of 'Mermaid' that would be acceptable for the front cover. This image of 'Mermaid' did become the front cover image: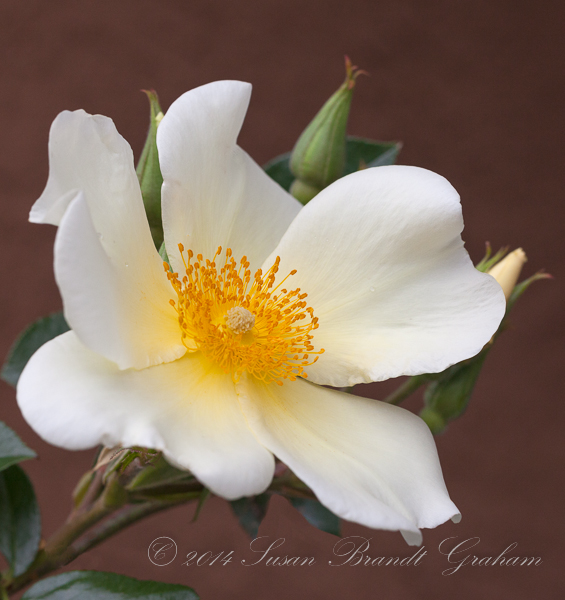 I did not have a strong feeling about the back cover image until I began processing the images from my trip to San Diego for the 2014 Spring National. Sally Long had invited me to give some presentations in Rose Photography, and after the show she showed me all around the San Diego area. Marvelous hostess…
Given the theme of "Roses across the USA," the red, white and blue of this American landscape, complete with American flag, seemed to beg to be the back cover image. Elena agreed, and this image became the one published: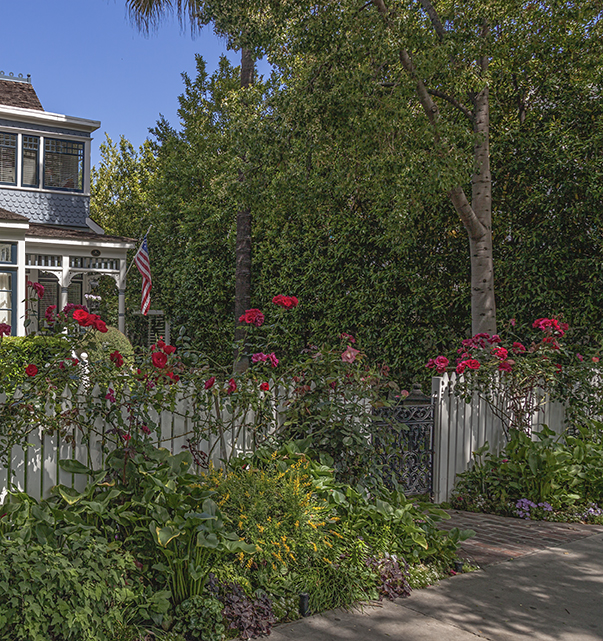 Thanks again to Elena Williams and the staff of the American Rose Society for an outstanding publication.