Sunset, Snow, Mountains: The Beauty of New Mexico
Sunset, snow, mountains: compare this sunset over the Sandia Mountains less than 36 hours after the very fiery sunrise in the previous post.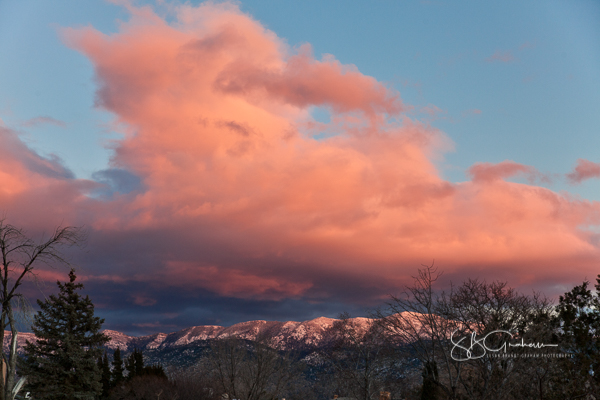 Late afternoon was cold and very windy. But the image appears calm – at least to me – compared to the fiery sunrise. The weather that morning was relatively calm (on the ground) and warm. I also watched this one as it developed, and had my camera and coat ready. I felt cold only when I was back in the house. This view, like most of those shown here, is from my back yard. 5:30pm. I see an old man with a Pinocchio nose in the cloud. Do you?
I rarely show photographs from the front yard, because the view is of a street of houses, driveways, and parked vehicles. Every now and then, though, I have to try because something special cannot be ignored. This is the same sunset looking east to the Sandias at sunset. This is toward the north end of the Sandias, with the collection of towers. 5:29pm.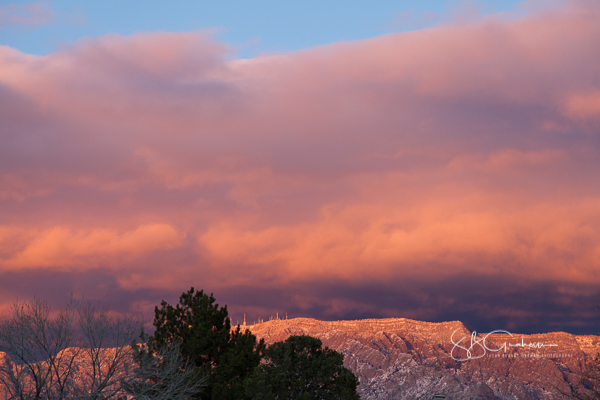 This week is one of wind, along with cold compared to the winter we had had so far. But, I am not complaining, because the weather has brought the kind of sunrises and sunsets I love.