Old San Ysidro Church 150th Anniversary
Old San Ysidro Church 150th Anniversary is being celebrated in a variety of ways throughout 2018.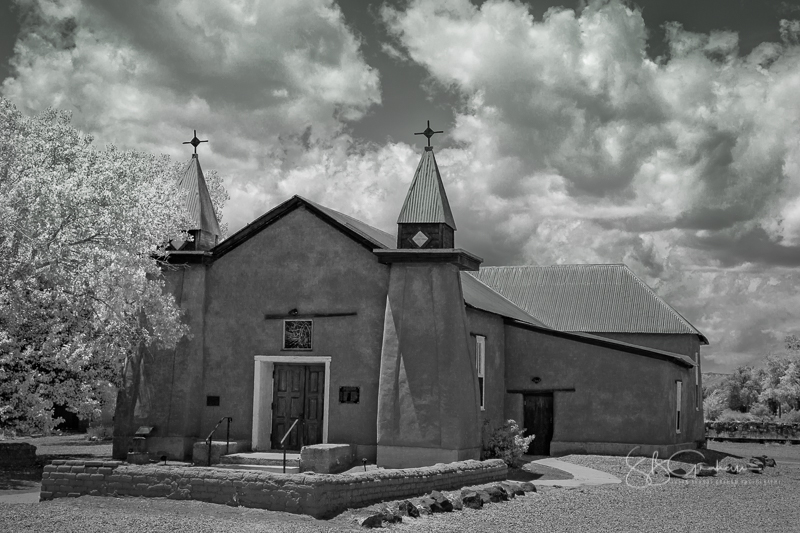 Those of you who visit here frequently know that I love to photograph in Corrales. As a result, I take every offered opportunity to photograph the Old Church just because I like it. However, it can present quite a challenge. I consider almost all those photographs to be practice. Several years ago I showed a very colorful one in Laguna Beach, California. One of the activities celebrating the 150th anniversary of the church is a photography show with images only of the church itself. No restrictions exist on interpretation for this show. I decided to enter only one and to do it in black and white.
San Ysidro is the Patron Saint of farmers. His feast day is May 15. This image comes from May 15, 2016. I was in Corrales for the 3rd Annual Corrales Rose Society Dr. Huey Tour. It was pure accident that San Ysidro's feast day was being celebrated at the new church, just a stone's throw away. In addition to the usual visual delights, we were treated with wonderful fiesta music. Certainly that added to an already magical day.
Corrales Harvest Festival and Old Church Photography Show
The Old Church Photography Show will be held the last weekend in September, in conjunction with the Corrales Harvest Festival. This is all very Corrales. Just across the Rio Grande from Albuquerque, you are in a different time and place. Parking is very limited. The Village closes the main streets to traffic, but provides free parking at the edges of the village. From there, hayrides transport you to a variety of places. The Pet Parade starting at 9:00 am Sunday is a favorite.
If you are in the area, consider a visit to Corrales and to the Old Church Photography Show the last weekend in September.