A beautiful sunrise from February 20, 2013.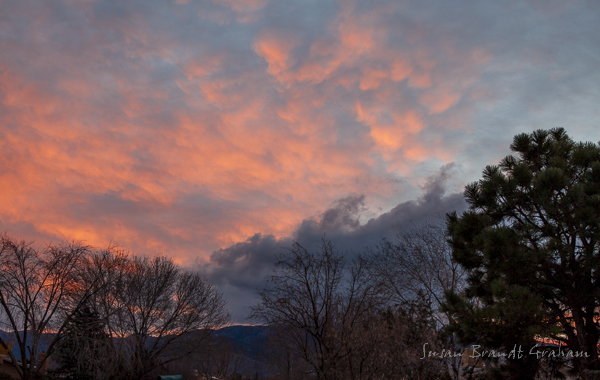 Albuquerque, and the Desert Southwest, are known for beautiful light and amazing sunrises and sunsets.
This image is from the morning of February 20. In the afternoon, the wind really picked up and clouds rolled in. That night, and in to the following day, we had snow. Although it was not a large amount of snow, we were grateful for it. The Desert Southwest is in the grip of a severe drought, and any precipitation is welcome.
Colorful and beautiful sunrises and sunsets are quite common here, but they are short-lived. This particular sunrise was extremely short-lived. The dark cloud you see on the right in this image moved in quite rapidly, and the reds and oranges in the sky disappeared as quickly as they arrived.
But, no matter how short, a beautiful sunrise is always welcome.