Morning Sky in the "Land of Enchantment"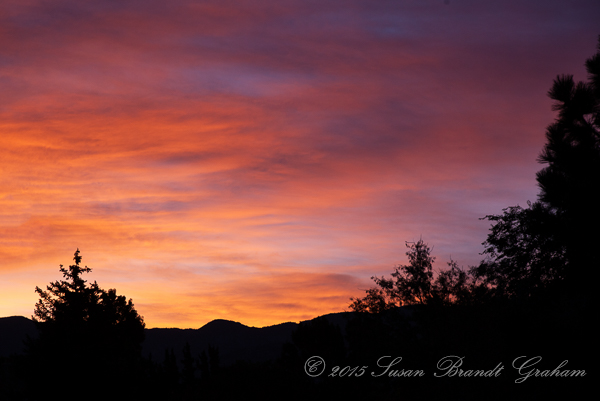 Morning sky: what a way to start the day here in New Mexico, "Land of Enchantment." And, it seems never to be the same. Day in and day out, the morning sky is different from the day before.
The very colorful sky is short-lived. Today it was four minutes, and that is typical. Over the years I have learned many of the signs that signal the possibility of a spectacular sunrise or sunset, or rainbow, and, every now and then, other phenomena.
Skies like this do not happen without clouds. If I see clouds when I awaken, I'll watch, with camera near, and start to photograph as soon as color appears. I'll continue photographing until the color fades. I've watched the position of the morning sun change throughout the seasons. I understand the expression, "up before the birds." (The birds do come to feed shortly thereafter, though.)
Just one more amazing morning sky in New Mexico. (The intense colors at present are probably contributed to by the smoke from fires in California.)