Pomegranate Symbolism and Power
Pomegranate Symbolism and Power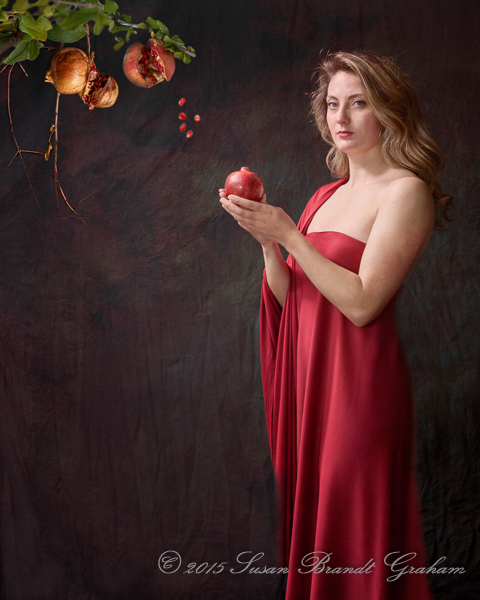 Pomegranate symbolism is found around the world and in many religions. In myth it has a kind of power not found in most fruits. A very nice summary, "Why a Pomegranate?" was published by the US National Library of Medicine, National Institutes of Health. This article was written to explain why the pomegranate was chosen as the logo for the Millennium Festival of Medicine. The article contains a very good list of some of the world's religions in which the pomegranate has significance:
Judaism – Pomegranate seeds are said to number 613—one for each of the Bible's 613 commandments. The pomegranate was revered for the beauty of its shrub, flowers, and fruit—symbolising sanctity, fertility, and abundance. The Song of Solomon compares the cheeks of a bride behind her veil to the two halves of a pomegranate.

Buddhism – Along with the citrus and the peach, the pomegranate is one of the three blessed fruits. In Buddhist art the fruit represents the essence of favourable influences. In China the pomegranate is widely represented in ceramic art symbolising fertility, abundance, posterity, numerous and virtuous offspring, and a blessed future. A picture of a ripe open pomegranate is a popular wedding present.

Christianity – A symbol of resurrection and life everlasting in Christian art, the pomegranate is often found in devotional statues and paintings of the Virgin and Child.

Islam – Legend holds that each pomegranate contains one seed that has come down from paradise. Pomegranates have had a special role as a fertility symbol in weddings among the Bedouins of the Middle East. A fine specimen is secured and split open by the groom as he and his bride open the flap of their tent or enter the door of their house. Abundant seeds ensure that the couple who eat it will have many children.
The pomegranate is integral to the Persephone myth and its explanation of why the world has Winter. While many variations in the details of this myth abound, the referenced article gives a very good one:
In the Greek myth of Persephone's abduction by Hades, lord of the underworld, the pomegranate represents life, regeneration, and marriage.1 One day while out gathering flowers, Persephone noticed a narcissus of exquisite beauty. As she bent down to pick it, the earth opened and Hades seized her and dragged her down to his kingdom. By eating a few pomegranate seeds, Persephone tied herself to Hades—the pomegranate being a symbol of the indissolubility of marriage. Inconsolable at the loss of her daughter, the corn goddess Demeter prevented the earth from bearing fruit unless she saw her daughter again. Zeus intervened and worked out a compromise: Persephone should live with Hades for one third of the year and the other two thirds with Demeter. Persephone's return from the underworld each year is marked by the arrival of Spring.
Not only are there many variations in the myth, but it is full of plots and subplots, twists and turns. Some of you who are regular readers here know that my first visual work with the myth was a series involving sunflowers and butterflies.
When I finished that series of three images, I knew I wanted to visually explore many aspects of the myth, a myth in which I came to see Persephone in many ways as a mythic representation of Woman in general. Those were the aspects I especially wanted to explore and which you will see in coming images. Not only am I a woman, but much of my work in anthropology dealt with women, as, of course, did my work as an obstetrician/gynecologist. Photography has given me a means to express so many of my thoughts of life, especially life as a woman, in visual images that can be shared. First, here, I had to explain the symbolism and power of the pomegranate through time and space, so that future images are more meaningful.
I became familiar with the myth of Persephone through casual email correspondence with writer and fellow anthropologist, Jim Stallings. My mom grows pomegranates, and this fall I had the opportunity to photograph a lot of pomegranates! I knew I wanted the perfect model to portray my vision of Persephone, but had no idea how to find that perfect person. Life sometimes has a way of presenting unexpected opportunities, and in late October, the perfect person I had in mind appeared, and was willing to be my model for Persephone. You will see in the coming series of images how perfect and how beautiful she is, and how fortunate I have been to be able to work with her. You will be seeing Kelly Angerosa in the series already photographed, and hopefully in many more photographic projects in the future. Thank you for being such a delight to work with, Kelly.
Now that pomegranate symbolism has been introduced, the next several posts will concern Persephone in the myth and as Woman, presented visually.